Retractable Banner Stands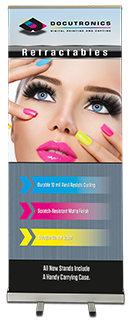 Our retractable banner stands are crafted of all aluminum frames that easily collapse to fit into their own included carrying case. The most popular base has a display area is 33" wide and 79" tall but we have many choices for you if you require something different. Adjustable sizes and tabletops are available. The graphics are printed on a high quality matte finish vinyl specially coated with a non-reflective finish to give you sharp, crisp text and vivid color graphics and photos. A 100% blockout layer is built in to prevent shadows and distorting light from passing through from nearby presenters. This vinyl is manufactured to stay flat with no curl on the edges of the banner.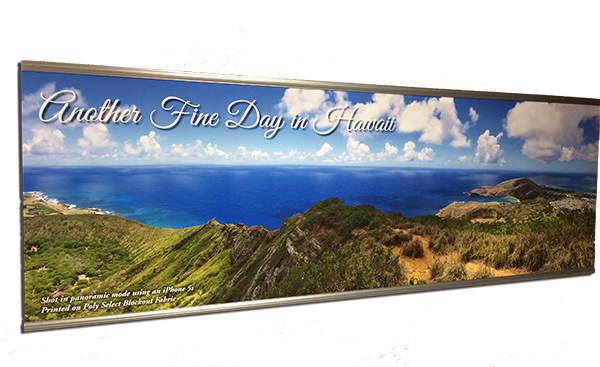 Hanging Banners
Hanging banners utilize the same high resolution block-out vinyl as our retractables. This ensures they hang flat and don't allow light to pass though from behind. You will appreciate this if you hang these banners from the ceiling in your store or place of business where light fixtures will most certainly be nearby.

Frame widths are available in a variety of sizes from 2' to 8' to fit your space and graphics. Height is determined by the size of your graphic.
Posters
Printed on high resolution satin photobase paper for the most incredible image reproduction. You won't believe your eyes. Crisp, clean text and vivid photographic reproduction. You can choose to laminate with gloss or satin finish, mount to a rigid substrate, or roll it up and take it home where you can put it in your own frame. Whether you are enlarging family snap shots or reproducing graphics for your business, our large, photographic quality poster prints will serve you for years to come.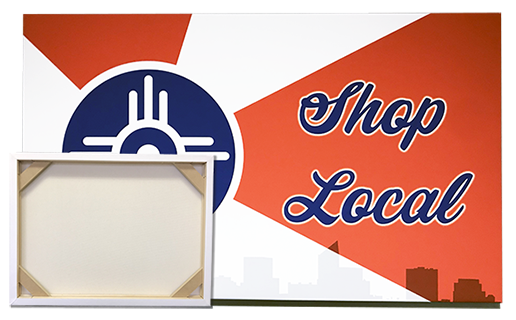 Canvas Prints
Most of us have a camera in our pocket at all times these days and ee are capturing memories like no other generation. Now what? Send your favorite shots to us and we'll produce an exceptional, high quality print on Fine Art Canvas for you to hang on the wall of your home or office and enjoy everyday!

Even More Choices. . .
Outdoor banners on reinforced vinyl that can withstand even Kansas weather; Backlit film for your lighted displays; and Print and Stick Fabric for indoor and outdoor repositional graphics. Call us! We'd love to talk about your project.