Design for Embellishment Printing
Embellishment printing simply means you now have access to Clear, White, Metallic Silver and Metallic Gold Inks. When designed correctly, you can use these extra inks to really do some special things in print. It is now possible to think differently about the stocks you use and how to layer the inks to bring out the most in your design. Let's get started!

First off, since you typically can't see white or clear in a layout on screen, let's setup some spot colors that will allow you to see what you're doing in your layout while accessing the intended color during the print process.


Setup Your Spot Colors
SWhite




SClear
SSilver
SGold
We are using 100% Yellow for SWhite, 100% Cyan for SClear, PMS 877C for SSilver and PMS 871C for SGold. You can use any color you prefer to represent each of the special colors in your layout as long as they are saved as CMYK Spots and named specifically as shown. Our system recognizes the naming with the first two letters capitalized to be the vivid color spots. This tells the press not to print these colors until we have activated the vivid color set.
Using These New Spots
Use these new spot colors as you would any other fill color. For instance, where you wish for an object or text to appear White, fill it with the SWhite spot you have created. It will appear 100% cyan on your screen which helps you visually keep track of it, but the press will interpret the intended color as white.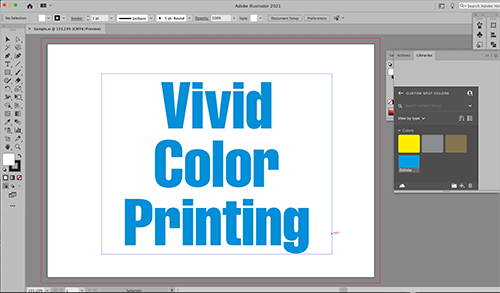 It is also a good practice to have objects of the same color on a seperate layer. In the event of any complications, it allows for file control that may help to resolve issues.
Final Thoughts
When submitting files for Vivid Color printing, please let us know that is your intent. We will make the first pass and then manually switch over to print the second pass. The printer will automatically omit the colors that are not a part of the current ink set. If we are not aware that you wish to add one or more vivid colors, it is possible for the printed piece to have an unexpected appearance.

Keeping in mind that this is a two pass process, the CMYK color set and Vivid color set may not perfectly register together. It is hightly recommended that you develope your designs with this in mind. For example, an attempt to outline a black typeface with gold will likely not go well and is not recommended.